Laura's Story
Laura's Story – by Catherine Wallace
My motivation for advocating for Medical Aid in Dying in Florida is rooted in North Carolina. My sister Laura has been a Fayetteville, North Carolina resident and clinician for 30 years and has been a successful business owner for 17 years. She is a compassionate therapist, providing pro bono services to military personnel involved in the Iraq War. She is also active in community outreach programs and charitable campaigns that benefit the people of Fayetteville. In 2014 she was diagnosed with stage 4 inflammatory breast cancer, which is rare and aggressive. She chose Dana-Farber Cancer Institute in Boston, MA for treatments because of their expertise dealing with rare and aggressive cancers. She had chemotherapy and radiation treatments for several years and had a period of remission, but the cancer returned and has metastasized to her bones. There will be no cure for her.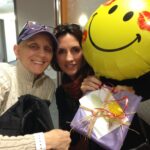 In our conversations, what she fears most as an independent, active person is losing her autonomy, dignity and the ability to engage in what makes her life meaningful. She would welcome all palliative treatments available including hospice care, but would find tremendous comfort and relief knowing that terminal comfort care drugs would be available should her suffering become unbearable. Currently, there is a bill in North Carolina going through the legislative process. I have written to the 12 sponsors of the bill and told them Laura's story. I thanked them and asked them to please continue to push this bill forward.
My husband is a hospice physician in Broward County Florida. We often talk about the good deaths and the bad deaths he sees. He has patients ask for Medical Aid in Dying, but in the state of Florida this is not a legal medical standard of care. I will continue to advocate for our organization Florida Death with Dignity for as long as it takes to get a Death with Dignity law in Florida. Terminally ill residents who meet the requirements of the bill should have ALL end of life options available to make an end of life decision that is right for them. I will continue to fight for a Death with Dignity Law in Florida and hope that it may someday help me or one of my loved ones.